Giftgowns' Hospital Experience Series - Patient Spotlight: Unity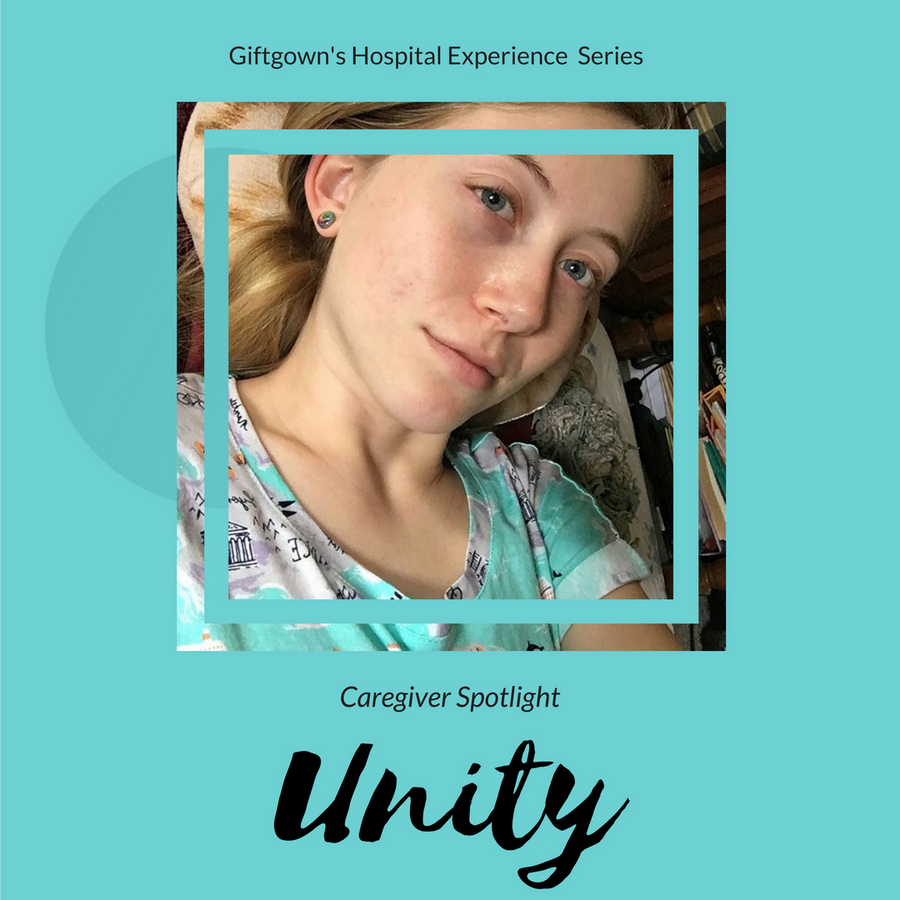 Giftgowns' Hospital Experience Series - Patient Spotlight: Unity
 Unity is next up on our Hospital Experience Series. Unity currently lives with multiple different chronic illnesses but her spirit cannot be dimmed! She's got some great insight and mantras to help you through some days that are a bit more difficult than others. 
The Basics
Name: Unity Bowling
Location: VA, USA
Social Media Handle(s): chronicallycollegiate (Instagram) Unity Bub (Youtube; not illness specific)
GG: Tell us about yourself, include if you're a patient, survivor or a current warrior battling an illness:
UB: I'm currently battling endometriosis, orthostatic issues, type 1 diabetes, cfs/me, and some other undiagnosed issues that we're in the process of trying to figure out!  I may have forgotten something… so many words and names get thrown around during appointments that I honestly haven't kept track.  Things change so fast and it's hard to keep a running list!  I'm a junior in college majoring in chemistry and English and minoring in Japanese.  I love reading and drawing and cuddling with my cat daughter Emma.  I also really enjoy cooking and home shows and love winding down with them.
GG: In three words, how would your friends and family describe you?
UB: Passionate, Empathetic, Stubborn.
GG: Have you ever had a long term stay in the hospital? What was it like and how do you think Giftgowns could have made the situation better and more comfortable?
UB: My longest stay was when I was diagnosed with diabetes.  It was pretty miserable, the IV tech put the IV right in the crook of my arm so whenever I moved, the machine went off, and I couldn't bend my arm much at all.  The major upside was that my nurses were AMAZING and super good at making the experience less crappy.  The food staff was also great at accommodating a vegan (and at that point limited carb) diet.  I think both my numerous ER stays and my actual admittance could have been made soooo much easier with a Giftgown.  Wearing the hospital gown all the time leaves me feeling itchy and unclean and exposed.  I like the snap design so that everything is still accessible but my booty isn't hanging out everywhere! 
GG: What is your favourite Giftgown?
UB: I adore the prints on the children's gowns.  If they made those in the adult sizes I would totally jump on them.  My favorite adult one however is the blue beat goes on one; because I have undiagnosed heart issues and it really resonates with me that even though crappy stuff is happening, the beat goes on both literally and metaphorically. 
GG: What are tips and tricks for those who are currently going through treatment?
UB: Some tips I have that work for me are to listen to your body, but also be aware if it's telling a white lie.  Whether that means telling the nurses that no, you don't feel okay, or admitting that you could eat something even though you don't feel well.  I have a problem of trying to morph my world into something that wouldn't intimidate others and that's unfair to myself.  Be self-aware to the benefit of you and your health! 
GG: Do you have any tips on making a hospital stay more pleasant?
UB: Hospital stays can be really sucky, but I love surrounding myself with things that remind me of home.  Window decals are some of my favorites because they make a really bland room seem cozy (especially if your view is of a rooftop or parking lot) and are easy to remove when it's time to go home or switch rooms. 
GG: Do you have any special routines or mantras that help you cope?
UB: One thing that I've found helps me is dropping my normal self care routine.  That sounds counterproductive, but my self care routine is pretty extensive and on a good day makes me feel great, but on a not so good day it's intimidating and frustrating if I can't finish it all.  Going to bed without using a face mask will not be to my detriment and sometimes the best self care is laying in bed with a blanket over your head pretending the outside world doesn't exist.  I love "healing is not linear" and "your best is always good enough".  They really push me through any mental funk I'm experiencing and remind me that no matter where I am, that's where I'm meant to be.
GG: And if we wanted to get to know you a little better...
What's your sign? I'm a Taurus!
What's your favourite candy/treat? I loooove any and all vegan chocolates.  And vegan ice cream because holy cow. 
What's your favourite vacation destination? I adore St. Martin. I hope they can repair after the hurricanes and I want to eventually go and help with reconstruction efforts.  The people there are some of the best in the absolute world. 
Thanks Unity- you're such a great example of positive thinking and we're thrilled to have you as part of our Hospital Experience Series.